Since accepting a teaching position at remote Fairwick College in upstate New York, Callie McFay has experienced the same disturbingly erotic dream every night: A mist enters her bedroom, then takes the shape of a virile, seductive stranger who proceeds to ravish her in the most toe-curling, wholly satisfying ways possible. Perhaps these dreams are the result of her having written the bestselling book
The Sex Lives of Demon Lovers
. Callie's lifelong passion is the intersection of lurid fairy tales and Gothic literature—which is why she's found herself at Fairwick's renowned folklore department, living in a once-stately Victorian house that, at first sight, seemed to call her name.
But Callie soon realizes that her dreams are alarmingly real. She has a demon lover—an incubus—and he will seduce her, pleasure her, and eventually suck the very life from her. Then Callie makes another startling discovery: Her incubus is not the only mythical creature in Fairwick. As the tenured witches of the college and the resident fairies in the surrounding woods prepare to cast out the demon, Callie must accomplish something infinitely more difficult—banishing this supernatural lover from her heart (Goodreads).
**********
I've tried, many times, to write a review that would do these two books justice, but I didn't succeed. It just can't be put to words, that is why I'll have to make an exception and show you with pictures, not words.
Things that are great:
> the heroine
> the covers
> the plot
> the narrative
> the secondary characters !!
> the twists
> the mythology
> the supernatural creatures
> Fairwick
> the demon lover
> the writing style
>... I'll stop here, because it'd take all day to finish the list.
I was fascinated and mesmerised by the world Juliet Dark created - I couldn't get enough! The vivid and colourful descriptions of Fairwick and its inhabitants had me glued to my chair without even needing food or water... or even air. I was enthralled by the mythical creatures that roam around Fairwick and their adventures; the way Dark transformed them into words was just magnificent.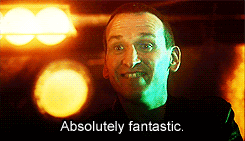 The most interesting thing? I racked my brain for days trying to come up with one bad thing to say about this series. I failed. Well, if I think about it, there is one serious flaw with both of the books - they're too freakin' short! And the third one, The Angel Stone, is not coming out until September!! What if I die before September!?